Woodland Oval Dove Cremation Urn - Large - IUWC301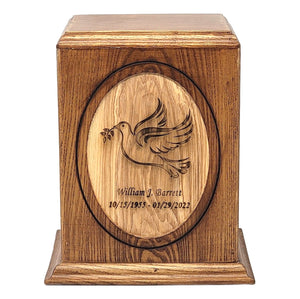 Aesthetically designed and engraved wooden cremation urn that relates to the departed soul. This urn is a beautiful way to memorialize your loved one with a particular interest in the outdoors or sports. The options on this urn are endless, custom designs are available on request.
This urn comes with an easy bottom opening.  
End to End - 8.25"L x 8.25"W 10"H
Volume: 200 cu inch