Aesthetic Series - Australe Adult Fiberglass Urn, Red - IUFC108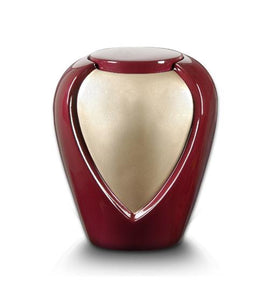 Lightweight Tealight Adult Cremation Urn for Human ashes. It's a hand crafted product with a unique heart design in the middle. The urn comes with a top opening. It fits the remains of most adults weight up to 210 lbs.
Comes with Velvet Bag and Ash bag.
Color: Red and Gold
Dimensions: 9"H * 7"L 
Weight: 2 lbs