Woodland Air Force Cremation Urn - Large - IUWC117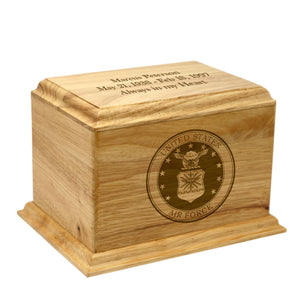 Aesthetically designed and engraved rubberwood cremation urn that relates to the departed soul. This urn is a beautiful way to memorialize your loved one with a particular interest in the outdoors or sports. The options on this urn are endless, custom designs are available on request.
This urn comes with an easy bottom opening.
Box Size :  9"L x 6.5" W 6" H  
End to End - 10"L x 7.5" W 7" H
Volume: 200 cu inch