Solid Rosewood Hand-carved Border Pet Cremation Urn - IUWD100-BORDER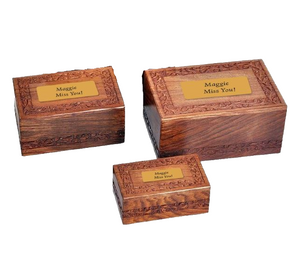 This simple yet elegant Rosewood Urn is carefully hand-carved to provide a beautiful look and to conserve your precious memories for our pets.

This urn comes with easy sliding bottom opening.
Medium Size: 7.5" L x 5" W x 3.75" H
Medium Volume: 80 cu. in.
Small Size: 6" L x 4" W x 3" H
Small Volume: 30 cu. in.
Extra Small Size: 5" L x 3" W x 2" H
Extra Small Volume: 10 cu. in.
Custom Brass Plates are sold separately under Accessories Section