Infinity Eternal Heart Cremation Urn - Red - IUFH132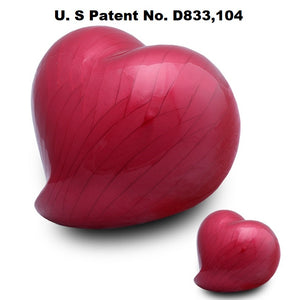 "Love is the most beautiful emotion and true love goes beyond even a lifetime! "
Beyond the realms of the physical world when memories are preserved forever, we bring our Infinity Eternal Heart Urn. Carved with care in high quality metal and enamel finished to the perfection of a pearl look, our beautiful range of Infinity Eternal Heart Urns creates eternal memory for your loved one.
This beautiful heart urn stands tall and true to its name beautifying the memories of the love of your beloved.
Urn Bag included with Urn. Protected with high quality glossy coat, handcrafted by Infinityurns.
Capacity: 200 cubic inches
Height: 9.5" Width 9"