Emerald Green Tealight Cremation Urn - IUET122-TL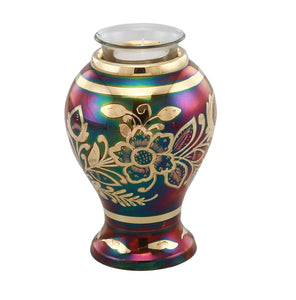 Infinityurn's Emerald Green is an elegant and affordable Tea Light SMALL CREMATION URN. The Tealight urn is made from solid Brass and the perfect lacquer coat to preserve its brilliance. It comes with a top opening, a threaded lid for ashes, and a small candle holding space.
Color: Green
Dimensions: 6"L x 4.5"W
Capacity: 35 cubic inches
Please Note: NOT Intended for Full Cremation Ash Quantity.