Elegance Mother of Pearl Brass Cremation Urn - IUET134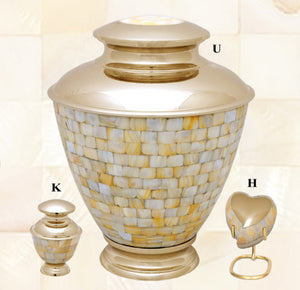 Discontinued item, only the adult urn is still available!
This Elegance Mother of Pearl Urn is finished in gold and nickel overlay with beautifully designed pearls. The urn is made from solid brass and the perfect lacquer coat to preserve its brilliance. It comes with a top opening, a threaded lid, and felt bottom.
Color: Gold and Pearl
Urn Size : Height 10" Volume 200 cu in