BIC® Round Stic® Pen - Minimum 500 count- Call to order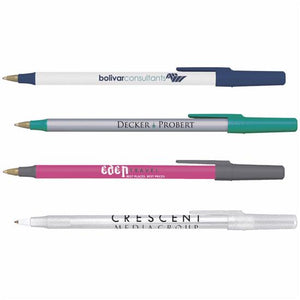 Call to order due to the various custom options
PRODUCT DETAILS
This versatile pen features a lightweight barrel, ventilated cap, and medium ballpoint for smooth and consistent writing. The BIC® Round Stic® Pen is a dependable choice that is recognized around the world.
Always in stock
FREE set-up
Over 600 barrel/trim color combinations!
Ventilated cap design
Mechanism: Stick
PRICE INCLUDES
1-color barrel imprint, 1 location
IMPRINT
Screen Print Barrel 2-1/2"w x 3/4"h, 1 color included, 2 colors max, Standard.
IMPRINT COLOR
Screen Print Colors
 

 

Brown 1545

 

 

Metallic Copper 876

 

 

Orange 172
 

 

Metallic Gold 872

 

 

Athletic Gold 116

 

 

Lemon 114

 

 

Cream 1345
 

 

Forest Green 341

 

 

Metallic Green 8283

 

 

Teal 327

 

 

Green 355

 

 

Lime Green 375
 

 

Dark Teal 316

 

 

Navy Blue 281

 

 

Metallic Blue 8203

 

 

Royal Blue 293

 

 

Process Blue
 

 

Burgundy 208

 

 

Maroon 202

 

 

Red 186

 

 

Metallic Magenta 8085

 

 

Magenta 205

 

 

Pink 211
 

 

Black

 

 

Color Match

 

 

Match Trim

 

 

Charcoal Gray 424

 

 

Metallic Silver 877

 

 

White
PRODUCT DIMENSIONS/SPECIFICATIONS
Length: 5.9063"
Diameter: 1.1563"
PRODUCT COLORS
Barrel Colors : Black, Black Sparkle, Blue, Burgundy, Clear, Clear Sparkle, Cobalt, Cream, Espresso, Forest Green, Green, Metallic Dark Blue, Metallic Green, Metallic Red, Navy Blue, Orange, Pink, Purple, Red, Silver, Slate, Teal, White, Yellow
Trim Colors : Black, Black Sparkle, Blue, Burgundy, Clear, Clear Sparkle, Cobalt, Cream, Espresso, Forest Green, Green, Metallic Dark Blue, Metallic Green, Metallic Red, Navy Blue, Orange, Pink, Purple, Red, Silver, Slate, Teal, White, Yellow
Point Style/Ink Color : Medium Ballpoint Blue Ink, Medium Ballpoint Black Ink, .07mm Fine Point Black Ink, .07mm Fine Point Blue Ink, Medium Ballpoint Purple Ink
PRODUCT MATERIALS