White Cultured Marble Cherub Infant Urn- IUCHERUB-White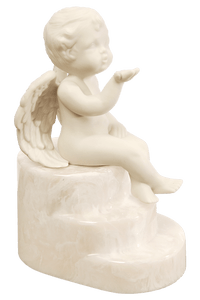 This White Cherub Infant urn is a memorial urn for ashes. Many people choose this urn for its color and also its durability and permanence. Made of stone, resin and color pigments, this cultured marble urn is proudly made in the USA.
The urn compartment is accessed via a single large threaded screw. This urn meets the requirements of most cemeteries for use in ground burial with no need for a separate urn

Size: 4" wide X 6-1/4" Length X 9" Height
Volume: 18 Cubic Inches
Each urn goes through a unique process of creation. Given this unique manufacturing process and variations in cultured marble material, the urn may differ in appearance from the image displayed.
If you need to travel with the urn, this cultured marble urn is appropriate for airline travel with the TSA guidelines as it can be x-rayed.
100% Satisfaction Guarantee