Sculpture Series - Always In My Heart Art Urn - IUSC106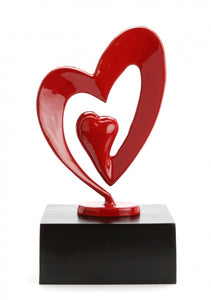 This is a precious work of art and when it reaches your hands – it becomes priceless as it honours the life of a loved one.  With that concept at the forefront of our mind – Urns UK have created the Infinity Collection.  You can be assured that each piece has been hand casted and hand finished ensuring it possesses a spirit of individuality.  Each piece is a work of art and communicates passion, love and rare beauty creating of an urn as unique as the individual it will serve.
ALWAYS IN MY HEART (Infinity Art Urn) has the following particulars:
This urn has a metal box - therefore is suitable for outdoors too.
Material: Aluminium sculpture & box
Size: 24cm x 20cm x 47cm
Weight: 5kg
Capacity/Volume of box: approx 210 cubic inches / 3.4litres – suitable for the full ashes of an adult/s up to total bodyweight 210lbs  or 95kg.