Tan Checked Olpe Real Marble Urn - IUMA120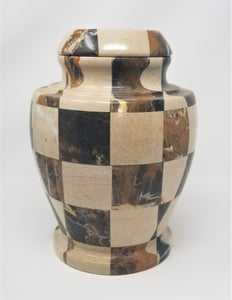 Presenting to you the Real Natural Marble Cremation Urn which is very elegant and affordable. The urn is crafted from genuine quarried marble. Its uniquely designed to create the shape and band details and polished to achieve a smooth, glossy finish. The lids are not threaded and sit flush with the top of the urn. They can be sealed with Household epoxy or rubber cement.
Each urn is unique in that each piece of natural stone will vary slightly in coloring and amount of veining. This ADULT URN holds up to 220 cubic inch of cremains and approximate measure is that 1-pound weight prior to cremation equals 1 cubic inch after cremation.
Please note- URN PATTERN AND COLOR WILL VARY 
Color: Wood-Style
Size:  11-1/2-inch-height x 8-inch diameter x 8-inch width
Volume: 210 cu in