Cowboy Retreat Theme Cremation Urn - IUTM102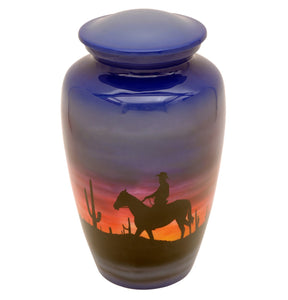 This beautifully handcrafted urn presents the Cowboy Retreat theme and it is perfect to honor the cowboy.
The urn is made of solid Metal and the perfect lacquer coat to preserve its brilliance. It comes with a top opening, a threaded lid, and felt bottom.
Color- Multi 
Size: 10.5"H x 6.5" W
Volume: 210 Cu in